A Growing Business
Alberni Towing is a full service, 24 hour towing company. Like the other towing companies in their area, Alberni Towing's web presence was little more than a listing in local directories.
They needed a way to stand out from the competition, and to inform potential customers about the variety of services they provide.
Goals:
Increase brand awareness & knowledge.
Become the first choice among local options.
Strategies & Solutions:
Focused on

speed

.
Focused on

mobile-first

.
Drove attention to phone number via call-to-action buttons

.

Clarified the

variety of services

available.
Created and updated

local citations

.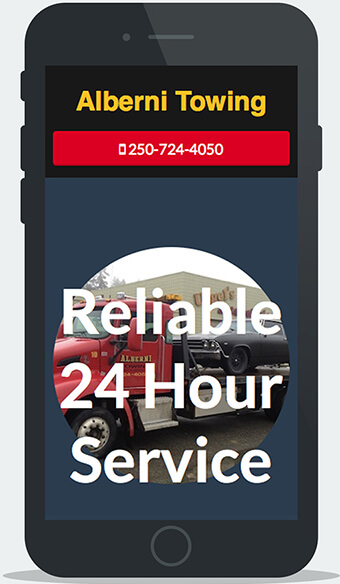 Built for Speed
When you need a tow truck, the last thing you want to do is wait.
Alberni Towing is built to load blazingly fast on even a slow connection. The quick phone call button is the first thing you see, so you can get in touch and get back on the road as soon as possible.
And search engines love websites that load quickly. Getting your load times down helps get your search ranking up.
A fast site is good for your customers and good for your business.
To the Top
Alberni Towing now dominates their search results. They're #1 for their primary keywords, and within the top 5 for their secondary keywords.
Their updated directory listings, now linking back to their website, are also in the top 5 results for all keywords.
No more guessing at who to call when you're stuck.
Alberni Towing is the clear answer.